Jacky's story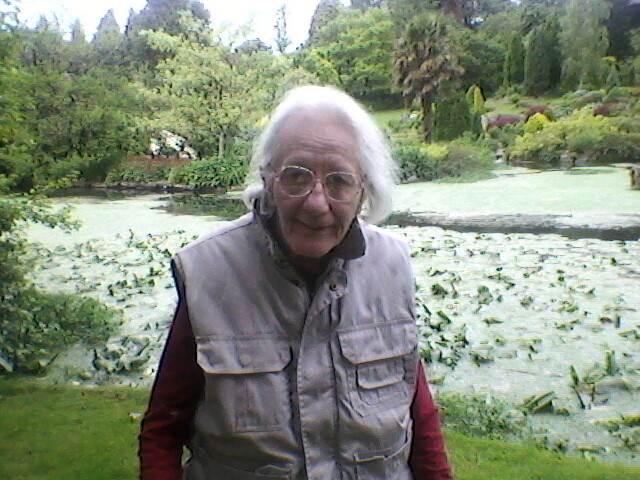 Jacky particularly liked this photograph; she said "It reminds me of a Monet painting". It was taken on one of her trips to Kilver Court Gardens with one of her live-in enablers. Two years before this picture was taken, Jacky was diagnosed with a form of dementia that significantly affected her communication and her ability to function independently. What is wonderful about her comment is that it represents one of those brilliant moments of clarity Jacky experienced when she was enabled to do something she loved and that she could relate to how she saw herself; Jacky used to be an artist.
Soon after she was diagnosed with dementia, Jacky explained how she felt: "My mind got blanker and blanker before. I had no idea where my future was going. Blue Sky Enabling hoisted me out of the muddle. I have a sense of relief every time small tasks are completed. I feel able to express my opinions. I decide the when's, where's and how's – my enablers respect my views and wishes, and then enable me to reach my goals. I feel clearer about the future than I did before; I know I want to stay around for it now."
As Jacky's dementia progressed her live-in support helped her increasingly with personal care, preparing meals, maintaining her home, making appointments with medical professionals and provided companionship so she remained safe and well. But this is only part of the picture. Every weekend her family would come over with one of her favourite meals and they were there every birthday, Christmas and Easter to ensure Jacky had a traditional celebration at home. Her dedicated team of live-in enablers helped Jacky to maintain contact with her friends and neighbours and she enjoyed handing out sweets to the local children when they came knocking on her door in their fancy dress outfits – all things that would have been impossible if she had gone into a nursing home.
Most importantly Jacky's qualified enablers understood Jacky's frustrations with her condition and were able to calmly help her overcome any challenging behaviour. They ensured there was always the time to engage with her in activities that meant something to her, such as talking with her about her photographs and books, sorting her drawings and participating in creative projects. She loved going out for walks, collecting leaves or cones and eating ice-cream by the canal – and upon returning home would find her pictures of the old barges from her youth or would place her treasured finds in a bowl on her window sill.
Jacky loved to browse in charity shops, to go to a café and have a hot chocolate and a cake or visit an exhibition where she maintained her sense of fun, dressing-up in the clothes of a pioneer at the American Museum! Despite her progressive condition Jacky continued to do the things she loved and visit places that inspired her. All of these things make up an engaged life and most importantly helped to maintain Jacky's mental and physical health.
Jacky's family said, "Jacky couldn't have had a better life or been better taken care of. "