Overcoming fear and stepping out – Rosemund's story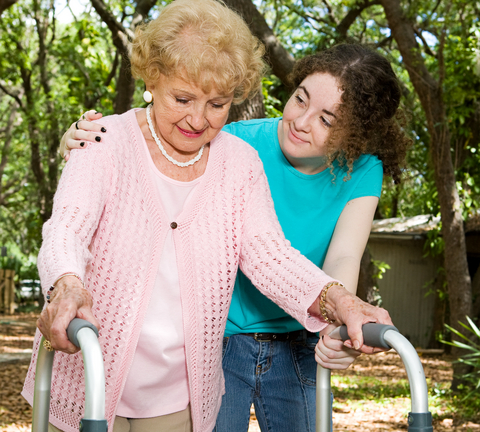 In her working life, Rosamund was constantly busy dealing with students and visiting dignitaries or helping her husband collating his research. When retirement came both were happy to pursue a more private life based around their home and garden. When her husband died bereavement and the loss of her sight and failing hearing brought a solitude and isolation Rosamund had not experienced before and with it came a growing fear of strangers and the world outside. Quietly, and without fuss Rosamund became a recluse.
Although cautious at first, Rosamund met with Shelley Saxon, Registered Manager of Blue Sky Enabling and over several meetings together they created a unique package of support for Rosamund. Blue Sky Enabling provides Rosamund with her own team of enablers who help Rosamund with her medications, maintain a healthy diet and look after her home and who provide her with companionship. As Rosamund came to trust her dedicated enablers she slowly started to blossom. Her enablers discovered Rosamund's sense of humour and ability to recite poetry learnt at her father's knee and make up ditties that had them in stitches and together they created a song book for Rosamund.
To help Rosamund reconnect with the local community and the outside world, her enablers started reading articles out of the local magazine and bringing back information on community activities from trips to the local shops, and with her permission carried Rosamund's news and good wishes out to her neighbours. It wasn't long before Rosemund started to reconnect more directly with her neighbours and take an active interest in their lives.
No longer satisfied just to hear about life outside, in recent weeks Rosemund took her first step outside! Rosamund said, "When I stepped over the threshold to go outside I said, "There's a strange smell out here. My goodness it's fresh air!" It was exhilarating and exciting being outside. I really enjoyed it!!"
Rosamund and her Enablers are planning more trips out now that the weather is improving.