Arthur's story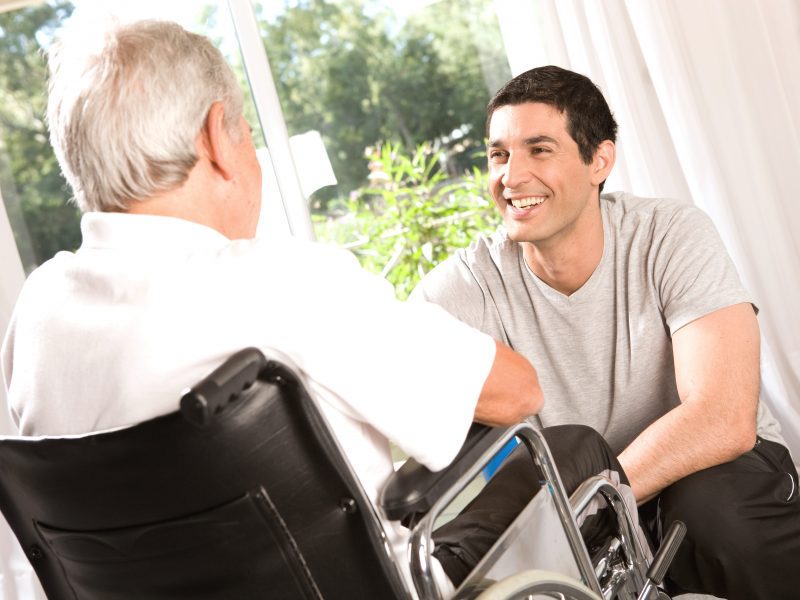 Arthur and Mary had been married for over 50 years when Arthur started to suffer from problems with his mobility. His symptoms, although mild at first, seemed to be developing alongside periods of temporary confusion. These symptoms became severe quite quickly: Arthur would wake at night needing to grab a glass of water, not wanting to wake Mary, he would attempt to make this trip himself, and he would fall and cry out. Mary was the only one around who was able to help him back up, and she would. But this kept happening, and eventually, the couple knew that it was time for them to seek some help from the NHS. After a quick diagnosis process, Arthur was found to have signs of vascular dementia.
This was a shock to Arthur, and despite him being told that his condition would show little remission, he was determined to carry on as before. However, the information shared to both him and Mary by the doctor, led them to come to terms with the idea that they wouldn't be able to go it alone for much longer. Arthur's mobility problems were getting worse, and so as suggested by the doctor, Mary started to look at what sort of help was available.
The tipping point in their decision happened soon after when Arthur caught a cold, which developed into a cough. Arthur's body was finding it difficult to fight the cold virus, and a lack of physical exercise meant that the cough developed into mild pneumonia. He was admitted to hospital for a course of antibiotics, and while in hospital, Arthur's dementia led him to get increasingly frustrated and non-cooperative with hospital attendants. A few of the hospital attendants recommended to Mary that Arthur go into a nursing home, but Mary told them that she had looked into the option of home care and this seemed much more like what the two of them would want.
Mary got in contact with Blue Sky Enabling who sent a Care Manager out to the hospital to see Arthur. Together the three of them helped to develop a care plan that would help to satisfy all of Arthur's needs; both the ones related to his mobility, and the ones related to his dementia. Knowing that things were going to change around the house was a breath of fresh air for them both. Mary was put in contact with a multi-disciplinary team of professionals, and with their help, with BSE's help, and with her family's help, together, everything was made ready for Arthur to return home.
After returning home with Blue Sky Enabling's live-in support, Arthur went from strength to strength. His newly approved physical routine helped him stay clear of infections; and the positive behaviour management protocols allowed him to feel calmer, so that he no longer felt pressured to climb out of bed unaided at night – there was now someone there who he could call on silently (from Mary's perspective) to help him. Arthur's enablers were also there to help him engage in calm conversation as his condition progressed. Also with their help, Arthur was able to engage in personal care tasks himself, like: shaving; cooking; gardening; picking beans and dead-heading roses etc. One day, when Arthur was out at the rugby club watching a game, Mary was asked how she felt about the support they received, her answer was, "I have my husband back!"