Rejuvenating the mother-daughter relationship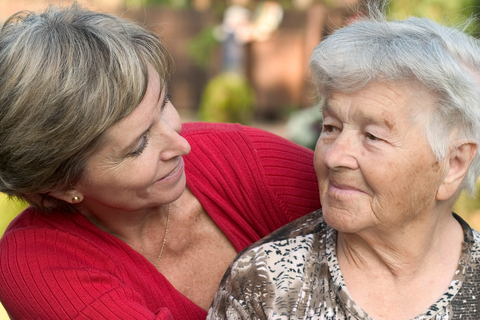 Kathy's Story (name changed to protect identity)
Kathy had age related memory issues, was prone to bruise and was occasionally unstable on her feet. She lived independently in her own home with daily support from her daughter, Sarah who lived next door. Initially because of their close proximity to one and other, it wasn't ever too arduous a task for Sarah to pop around next door to give her mother a hand. However when Kathy's memory started to deteriorate more rapidly, and her mobility became more of an issue, Sarah felt that her visits were not enough to ensure the safety of her mum. Sarah discussed the matter with her husband and they both agreed that they would get some help during the days from a domiciliary care provider, and provide on-call support at night themselves. They bought Kathy an alarm, which she could ring if she was ever in trouble, and requested that Blue Sky Enabling offer support services to Kathy a few times a week.
Even at the age of 96, with support from Blue Sky Enabling team, Kathy was enabled to live an incredibly active life, with regular walks, croquet sessions, cups of tea with friends, and trips down to the bridge club to play cards. The enablers that Blue Sky Enabling sent to Kathy's house were light and bubbly, and really complimented her personality. The team got on with her like wild fire, and they always had something to talk about.
Having Blue Sky Enabling occupy Kathy's time throughout the day meant that Sarah was able to get some of her days of the week back to herself so that she could also go out and enjoy her retirement. This had the knock on effect of making that mother-daughter time they spent together extra special, and they found themselves able to talk about the different things that they had done during the day. Kathy was able to talk about her daily excursions with her enabler who was trained to help her work through some of the bits she didn't remember as well, and fill in any of the gaps, the conversations between Kathy and her daughter blossomed.
Sarah found that the level of trust she was able to place in the enablers was tremendous, and when the time came Sarah wanted to go away on holiday, she approached Blue Sky Enabling. Sarah asked if Kathy's enabler would consider doing live-in shifts at the house, to look after Kathy 24/7 while they go away for a week. Sarah wanted to make sure that someone was always going to be there if there was a problem. Kathy's house had a spare room, so live-in made perfect sense. After Blue Sky Enabling management discussed the matter with Kathy's enabler, the offer was accepted, and for the first time in a few years, Sarah was able to go away on holiday with her husband for a week. When Sarah came back and spoke to Blue Sky Enabling management about when her next trip would be she said, "I greatly appreciate the kindness and care Blue Sky Enabling provides. It means I'm able to go away without worrying, knowing my mum is in good hands."
Having a live-in enabler started as a temporary arrangement to cover holidays, but soon became a permanent arrangement for the benefit of Kath and Sarah. Kathy found that her rejuvenated relationship with her daughter helped her get through the more difficult days of her later years. She was much happier when her daughter was just her daughter, rather than when she was her main carer. Like most of us, Kathy needed her family to be there for her, but it was much simpler when they both fulfilled roles that came to them naturally.