Kathy's story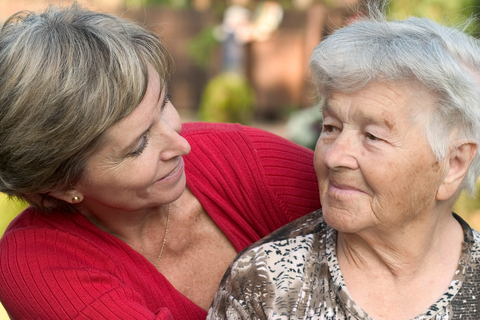 Kathy had age related memory issues, and was occasionally unstable on her feet. She lived independently in her own home with daily support from her daughter Sarah, who lived next door. After Kathy suffered an injury after falling, Sarah found that she was spending the majority of the days of the week supporting her mum. Sarah enjoyed being able to look after her mum, so this arrangement was good in the short term. However when Kathy's memory started to deteriorate more rapidly, Sarah started to become concerned that her mum needed professional support. Sarah discussed the matter with her husband and they both agreed that they would speak to Kathy about potentially getting some additional support from a care provider. Kathy agreed to receive the support on the provision that she could get out of the house more often.
As a lady in her 90's Kathy was enabled live an active life with the assistance of Blue Sky Enabling (BSE). In line with what Kathy wanted and needed out of retired life, she was supported to do a range of activities out of the house including: regular walks; croquet sessions; tea with friends; and trips down to the bridge club to play cards etc. Also Sarah was able to get some of her days of the week back, meaning she as well could also go out and enjoy her retirement. The independence Sarah and Kathy got through employing BSE to help with Kathy's care meant that the mother-daughter time they spent together was then extra special, and they found themselves able to talk about the different things that they had done during the day.
Once it was clear that Kathy had become settled with the support provided by her enablers, Sarah spoke to her about the possibilities of going away with her husband for a holiday. Kathy was quite comfortable with the idea, but wanted to make sure that someone would be there for her if she needed them at night. Sarah approached BSE and asked if they would consider providing live-in shifts at the house. Sarah said that they wanted someone to be there for Kathy 24hrs a day while she and her husband went away on a short holiday for the weekend. She said that the enabler didn't have to be up and awake all night, just there to help if it was necessary. Kathy's house had a spare room, so Kathy identified that a short term live-in arrangement made perfect sense. After Blue Sky Enabling management discussed the matter with Kathy's enabler, the offer was accepted, Kathy was consulted, and for the first time in a few years, Sarah was able to go away on holiday.
Having a live-in enabler started as a temporary arrangement to cover holidays, but soon became a permanent arrangement for the mutual benefit of Kathy and Sarah. It gave both of them the freedom they needed, and out of it both Kathy and Sarah became happier and more independent of one and other.